Classic hybrids and volume lashes
CLASSIC, HYBRID AND VOLUME EYELASH EXTENSIONS
Classic, Hybrid and Volume Eyelash Extensions. What's the difference? This is the most common question I get asked when explaining the different options to lash newbies have. There's quite a significant difference between the look of the three and also pricing. I am here to help explain the differences and which option may be most suitable to you, if you are considering tying out eyelash extensions for the first time.
Let's start of with the timeless classic eyelash extensions. This is when one semi permanent eyelash is applied to nearly every one of your natural eyelashes. Generally not every natural eyelash can be lashed. Some people may have baby, very thin new lashes coming through, or perhaps they have damaged lashes, which are best left untouched. I normally recommend those new to eyelash extensions who are a bit nervous and are unsure where to begin, to start off with classics. A lash technician can create various looks with the classic technique, from very a natural set to long glamorous lashes. Because it is one to one lash, you will never be able to get a very fluffy set, unless you are blessed to have a larger quantity of natural lashes to work with. Classic eyelash extensions can also be applied in various diameters (.10mm -.25mm). As an experienced technician I will assess every single client's eyes and lashes and customise a specific look that will look amazing but also not compromise the health of the natural lashes. NOTE: If you have thin, frail lashes you will not be able to get thick long lashes applied. Your natural lashes may get damaged by the weight of heavy thick and long lashes, and you could be left with even fewer lashes than you started with.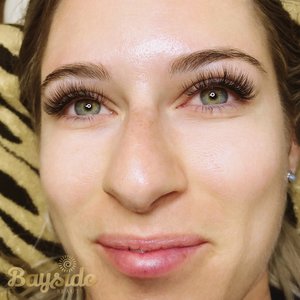 Some clients come back for their refills after their first time and will request a more full fluffy look. This is when I recommend going up to Hybrid lashes as this might be the best option for them. As you've already guessed, Hybrid eyelash extensions give a fuller look. This technique combines classic and volume (2D-8D fans) application, generally 50/50, but it's a hybrid so really the technician can create a tailored look to suit the individual client. At Bayside Beauty I work with 4-6D volume fans. This mean there will be 4-6 extensions together making a volume fan on 1 natural eyelash. This look has become the most sought out look with my clients as it's right bang in the mid volume range. Not too light and not too heavy. JUST RIGHT!
"I want MORE! Give me more volume!" This is a phrase I will sometimes get with some of my lash obsessed client. This is where the Russian Volume sets are recommended. I'll tell you something. Once you start getting lashes… there's no way you will be able to live without them! Some people like a natural look, and others like a glamorous FULL look. Everyone is different and have different tastes. The full look can be desired by those who have few lashes and need a full set of Russian Volumes to appear like an average set of eyelashes. There are also those who love the wow glamorous full look. If applied correctly by trained and experienced technician these look exquisite!
At Bayside Beauty all 3 eyelash extensions options are available. If you would like more information or would like to have a consultation to discuss which options would be best for you, I would be more than happy to sit with you or talk over the phone to discuss further.
Have a lovely Day Lash Angels!
Adriana Alvarenga
Bayside Beauty