Eyebrow and eyelash tinting in Brisbane
What exactly is it?
Eyebrow and eyelash tinting temporarily dyes the hair to the chosen colour. This is done to achieve the look of wearing mascara or fuller brows without having to apply makeup daily, or if you're wanting to achieve a lighter look to match your recently dyed lighter head hair; this too is done. The dye used to colour the lashes and brows, is usually a vegetable-based dye. This is to minimize the irritation around the sensitive eye area. Though if you're going lighter, then obviously it's a peroxide based tint.
Who can and should get this done?
Tinting generally will help customers with naturally light coloured brows and lashes gain a darker and more noticeable brow and lash line. If you are a person with barely there brows and lashes, eyebrow and eyelash tinting would be the perfect solution to accentuate your eyes beautifully. At Bayside Beauty, I will help you choose a suitable colour from a range of tints for brows and lashes.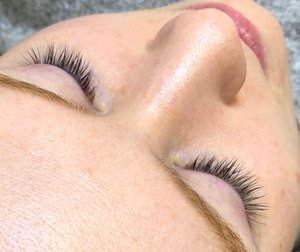 How long does it take?
When dyeing the lashes, the entire lash tinting process takes approximately ten to fifteen minutes. Firstly, pads are placed around the eyelids to prevent the dye from colouring the skin and protecting the eye itself. Secondly, the dye is applied carefully to the upper and lower lashes. The dye must then set for at least five minutes to penetrate the lashes. lastly, the dye is cleansed away and the lashes are left the desired colour of choice. When dyeing the brows, the entire brow tinting process takes about 10 minutes. It's quicker then the eyelash tint as there is no fluffing around with the pads. The dye is applied carefully so not to get on the skin. The dye is left to set. This can vary between 2-5 minutes. If you have very light lashes brows and you want them very dark you will need to have the dye on longer.
What are the benefits?
Women who regularly get their eyebrows and eyelashes tinted enjoy a number of benefits. If your brows and lashes are naturally blond, getting them dyed will create a much more dramatic look for your eyes. The hassle of mascara and penciling in your brows during your morning routine will be obsolete. The best part is the benefit is around the clock and will last up to 5 weeks. You'll even save time when removing your makeup at the end of the day. Lash tinting is a great option for women who have busy or active lifestyles. If you spend a lot of time swimming, playing sports or chasing your kids around, it's likely that you do not often wear mascara. Brow and lash tinting will give you a more finished look that is also no-maintenance. WIN WIN!

Should you have any questions or concerns, I will be more than happy to have a consultation with you to alleviate any worries you may have. We look forward to seeing you to make you feel and look gorgeous!
Adriana Alvarenga
Bayside Beauty